TrustBIX Supports National Index on Agri-Food Performance
The TrustBIX Team

The National Index on Agri-Food Performance is a first-of-its-kind Canadian initiative to define and report on a comprehensive and consolidated picture of sustainability from food production to retail. It's possible that this Index is a first of its kind globally. Today there are 128 partners that have joined this initiative and it continues to grow. TrustBIX was one of the Founding Partners as the vision of this group aligned with their corporate vision, and is recognized as a Patron Contributor, along with other well-known organizations.
Patron contributors:
Canadian Federation of Agriculture (CFA)
Canadian Roundtable for Sustainable Beef (CRSB)
Enterprise Machine Intelligence & Learning Initiative (EMILI)
Farm Credit Canada (FCC)
Fruit & Vegetable Growers of Canada
Complete Index results along with references to global practices are available at agrifoodindex.ca. All information in this paper is sourced from the Index (Part 2) unless otherwise stated. This paper is one of seven published together as Part 3 of the Phase 3 Final Report, May 2023.
https://www.agrifoodindex.ca/national-index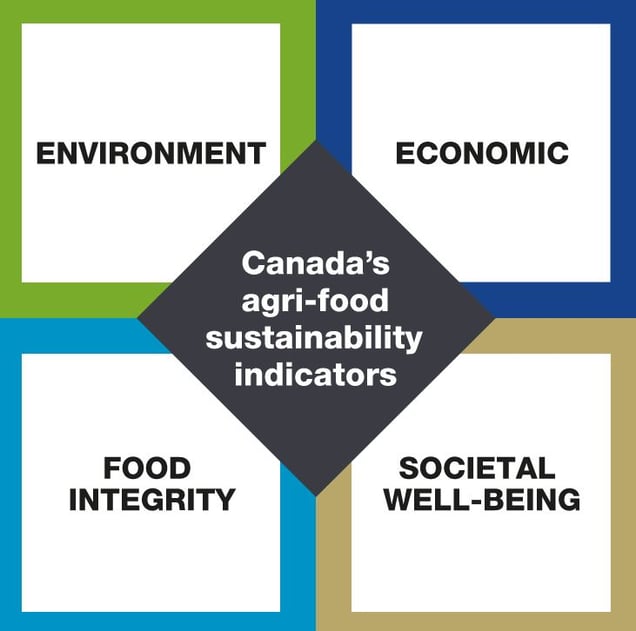 More About the Index Pilot
Developing the National Index on Agri-Food Performance pilot is the most recent work – known as phase 3 from May 2022 to May 2023. This report expresses the need for and advantage of a Canadian-made Index. It also outlines all projects undertaken in this phase. See Part 1 of the final report, What was achieved: Summary.

The pilot details the metrics for 20 indicators spanning four blocks of sustainability and identifies data limitations. The work also assesses the Index's alignment with several existing global benchmarking initiatives for additional context. See Part 2, Index Pilot: Indicators and Metrics.
The work includes seven short interpretative papers on key Index findings. Selected indicators are profiled as well as commentaries on interpreting and designing the Index. Part 3, Seven Papers on Index Results includes the following papers:
The phase lays the foundation for a proposed Centre for Agri-Food Benchmarking to manage and evolve the Index going forward. The work outlines the need for the Centre, presents its governance structure and how it proposes to operate and source new and better data in the future. See Part 4, The Centre for Agri-Food Benchmarking